measures to reduce premises infection spread
The phased return to a new normal is beginning. Schools, offices and shops need "covid-secure" buildings to reduce the chance of infection. Government has stated it will be inspecting to underline the requirement. 
Allder Group has been working with all types of premises to maintain and help meet entry and exit regulation for many years. 
From installing toughen plastic and glass protective screens, barriers and partitions to automatic 'minimum touch' doors, signage and inventing iTip Handles. Allder Group is uniquely placed to help with your requirements. We would love to help you return to work safely. Please call 0118 989 2613.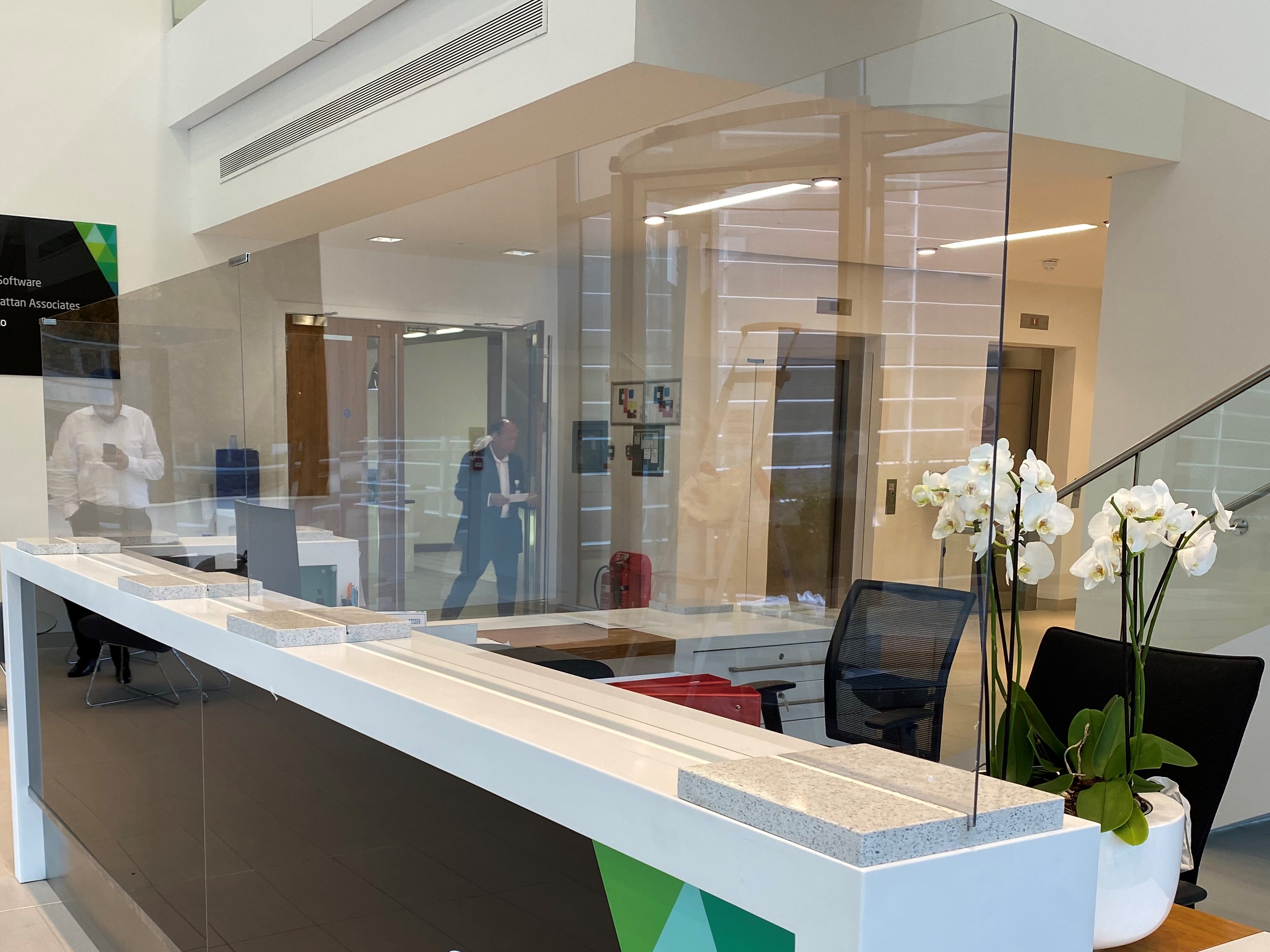 HYGIENE & PROTECTIVE SCREENS
We have many years' experience of creating protective screens, both standard and bespoke to fit any area. These can be in either unbreakable clear hi-spec plastic or premium glass options.  Note after a short period of time plastics can look warn, off colour and tacky so a quality approach is recommended.

Viruses can be spread through droplets in the air from carriers coughing and sneezing.  Sneeze or Hygiene screens are now being used to protect both workers and customers. These range from receptionists in hotels, segregating gym workout areas to shop counters and for separating hot desk areas in offices and schools. Our aim is for the screen to blend in rather than feel like a physical barrier. Please ring  0118 989 2613.
school & office partitions
'Blended working' is the new buzzword. It has become clear home working is part of the solution, but not the whole. People will still need to come together and meet in buildings, but in a safe way.
How do you convert your current workspace with the required distancing AND without looking cobbled together?
This can be solved using glass partitions. These look amazing yet provide spaces for groups to spread out in a safe way whilst still being separated from other individuals and discussions.
Allder Groups glass specialists can provide specifications depending on your requirements such as see-through panels that can be electronically activated to prevent viewing into the workspace.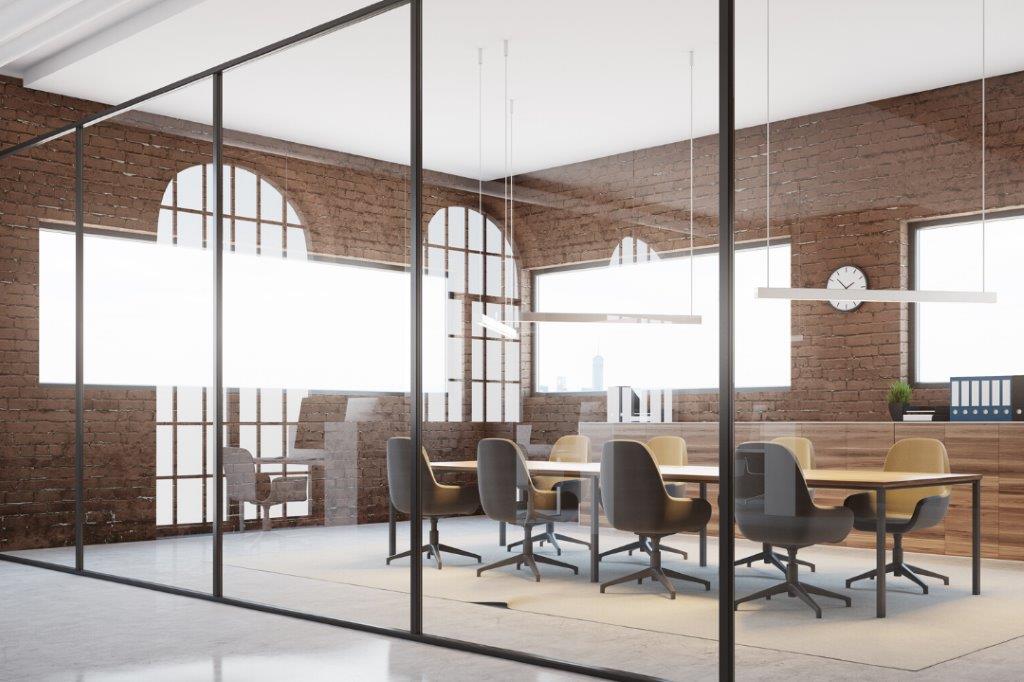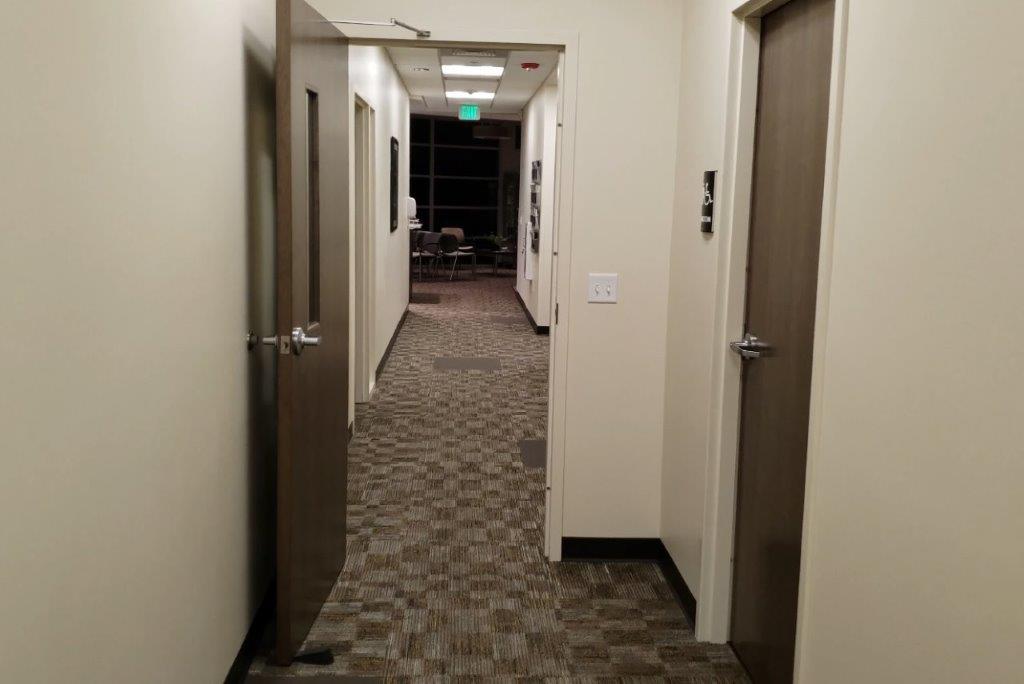 reducing touch. fire doors & restrooms
The infection has moved the approach to "hold open" devices on doors to reduce the need to touch them. 
In the case of fire doors, we fit legally compliant electronic units that release on hearing the fire alarm sound re-instating the fire break. 
For toilets, Allder can change free passage latches to engaged indicator locks on the initial door into restrooms, where there are facilities for multiple users. This enables indivudal users to maintain distancing.
door entry & exit points
Disability Discrimination Act (DDA) requirements encourage automating manual doors. Since the pandemic, we are seeing an increase in enquiries for non-touch. The biggest change is moving away from pressing buttons to installing passive infrared sensors (PIR), proximity devices and card readers for security.  If you would like to discuss please call 0118 989 2613.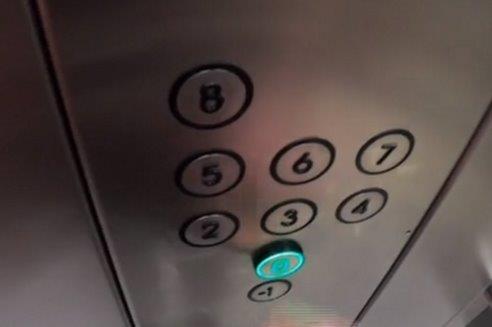 GOODS HANDLING
Moving product has the opportunity for many touchpoints.  From shipping, distribution centre and then the shop floor/ front door a number of people may have touched a product. We have developed a removable handle for sack trucks, trolleys. The part your hand comes into contact can be taken off in seconds so it can be easily sanitised, issued for a shift, then removed again before re-sanitising.  iTip Handles also reduce musculoskeletal disorder (MSD) and has been thoroughly tested by the Health & Safety Executive (HSE) of the UK government. They will also work on manual cleaning devices such as floor sweepers and retail cages.
distance measures
Washrooms and toilets are a potential flashpoint for spreading virus and contamination.  Allder Group has been applying measures to business premises of all sizes. These include restricting sink access to maintain social  distancing when common areas are being used. Talk to us on  0118 989 2613 to hear more about what we experience across our customers and how we can assist.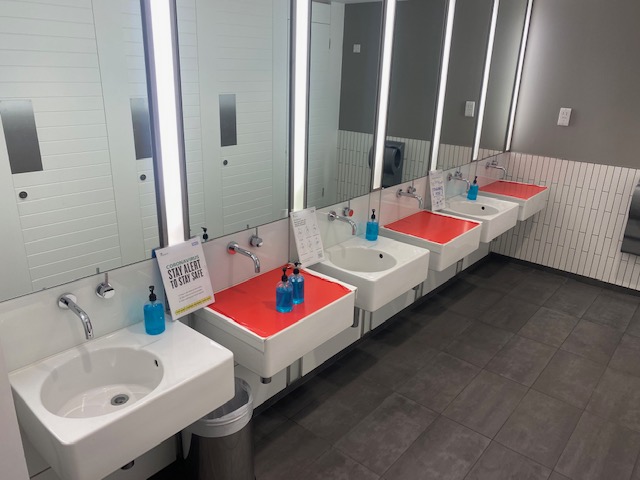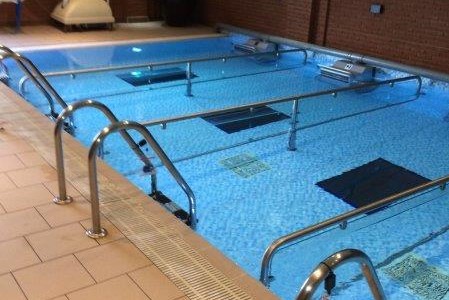 specialist requirements
Many organisations will need specialist glass screens to function in the new normal. Allder Group has been providing solutions for organisations, such as Nirvana Spa in Wokingham, for many years. This pool uses glass panels to segregate swimmers using wave machines. Equally glass screens such as these can be used in gyms to separate cross trainers, rowing machines and cycling equipment. Talk to Allder about your requirements. 
signage
A review of how you organise people flow through buildings and joint areas is recommended.  Using clear guidance through signage to help social distance makes all the difference.  Floor stickers, markings and quick to understand instructions coupled with barriers and screens can create clear one direction flows through spaces.  Hot desks, break out areas, canteens and reception areas need to be as safe as possible.  Allder Group can provide the creation of quality signage alongside the other services given above.  This gives a one-stop location for your main infection control building requirements.